Bone Grafting
Major & Minor Bone Grafting
Over a period of time, the jawbone associated with missing teeth atrophies or is reabsorbed. This often leaves a condition in which there is poor quality and quantity of bone suitable for placement of dental implants. In these situations, most patients are not candidates for placement of dental implants.
Today, we have the ability to grow bone where needed. This not only gives us the opportunity to place implants of proper length and width, it also gives us a chance to restore functionality and aesthetic appearance.
Major Bone Grafting
Bone grafting can repair implant sites with inadequate bone structure due to previous extractions, gum disease or injuries. The bone is either obtained from a tissue bank or your own bone is taken from the jaw, hip or tibia (below the knee). Sinus bone grafts are also performed to replace bone in the posterior upper jaw. In addition, special membranes may be utilized that dissolve under the gum and protect the bone graft and encourage bone regeneration. This is called guided bone regeneration or guided tissue regeneration.
Major bone grafts are typically performed to repair defects of the jaws. These defects may arise as a result of traumatic injuries, tumor surgery, or congenital defects. Large defects are repaired using the patient's own bone. This bone is harvested from a number of different sites depending on the size of the defect. The skull (cranium), hip (iliac crest), and lateral knee (tibia), are common donor sites. These procedures are routinely performed in an operating room and require a hospital stay.
Related Bone Grafting Articles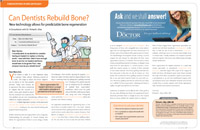 Can Dentists Rebuild Bone?
Yes they can! It is very important to maintain bone volume following removal of a tooth so that dental implants remain a viable option for tooth replacement. This is easily accomplished with today's routine bone-grafting techniques… Read Article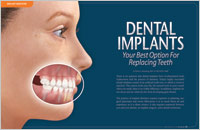 Dental Implants – Your Third Set of Teeth
A discovery fifty years ago paved the way for one of dentistry's most exciting, natural looking and successful tooth replacement systems. Learn how dental implants might just possibly change your life… Read Article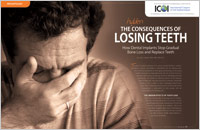 The Hidden Consequences of Losing Teeth
For those missing even one tooth, an unsightly gap is actually the least significant problem. What's of far greater concern is the bone loss that inevitably follows tooth loss. Dental implants fused to the jawbone can preserve bone, improve function and enhance psychological well-being. Learn how implants serve both as anchors to support replacement teeth, and preserve bone as one of the better preventive maintenance procedures in dentistry… Read Article
Comiskey Oral Surgery
5
out of
5
stars based on
2
Bone Grafting reviews.
---
Our Latest Patient Testimonial
My extraction and bone graft was so easy. The assistant talked me through the entire process as the doctor was working. I had very little pain afterwords.
- Wendy B
Our Latest Patient Testimonial
I was very pleased with the care I received by all staff members. I received a follow-up call to see how I was doing a couple of days after surgery, and the written instructions I was given at the time of the procedure were very helpful. The area above for the procedure did not allow me to add extraction to bone grafting, but I had both. I would definitely recommend Dr. Comiskey .
- Patricia D