Wisdom Teeth
By the age of 18, the average adult has 32 teeth; 16 teeth on the top and 16 teeth on the bottom. Each tooth in the mouth has a specific name and function. The teeth in the front of the mouth (incisors, canine, and bicuspid teeth) are ideal for grasping and biting food into smaller pieces. The back teeth (molar teeth) are used to grind food up into a consistency suitable for swallowing.
The average mouth is made to hold only 28 teeth. It can be painful when 32 teeth try to fit in a mouth that holds only 28 teeth. These four other teeth are your third molars, also known as "wisdom teeth."
Why Should I Have My Wisdom Teeth Removed?
Wisdom teeth are the last teeth to erupt within the mouth. When they align properly and gum tissue is healthy, wisdom teeth do not have to be removed. Unfortunately, this does not generally happen. The extraction of wisdom teeth is necessary when they are prevented from properly erupting within the mouth. They may grow sideways, partially emerge from the gum, and even remain trapped beneath the gum and bone. Impacted teeth can take many positions in the bone as they attempt to find a pathway that will allow them to successfully erupt.
These poorly positioned impacted teeth can cause many problems. When they are partially erupted, the opening around the teeth allows bacteria to grow and will eventually cause an infection. The result: swelling, stiffness, pain, and illness. The pressure from the erupting wisdom teeth may move other teeth and disrupt the orthodontic or natural alignment of teeth. The most serious problem occurs when tumors or cysts form around the impacted wisdom teeth, resulting in the destruction of the jawbone and healthy teeth. Removal of the offending impacted teeth usually resolves these problems. Early removal is recommended to avoid such future problems and to decrease the surgical risk involved with the procedure.
Oral Examination
With an oral examination and x-rays of the mouth, Dr. Comiskey can evaluate the position of the wisdom teeth and predict if there are present or may be future problems. Studies have shown that early evaluation and treatment result in a superior outcome for the patient. Patients are generally first evaluated in the mid-teenage years by their dentist, orthodontist or by an oral and maxillofacial surgeon.
All outpatient surgery is performed under appropriate anesthesia to maximize patient comfort. Dr. Comiskey has the training, license and experience to provide various types of anesthesia for patients to select the best alternative.
Removal
In most cases, the removal of wisdom teeth is performed under local anesthesia, laughing gas (nitrous oxide/oxygen analgesia) or general anesthesia. These options, as well as the surgical risks (i.e., sensory nerve damage, sinus complications), will be discussed with you before the procedure is performed. Once the teeth are removed, the gum is sutured. To help control bleeding, bite down on the gauze placed in your mouth. You will rest under our supervision in the office until you are ready to be taken home. Upon discharge, your postoperative kit will include postoperative instructions, a prescription for pain medication, antibiotics, and a follow-up appointment in one week for suture removal. If you have any questions, please do not hesitate to call us at Concord Office Phone Number 704-785-8060.
Our services are provided in an environment of optimum safety that utilizes modern monitoring equipment and staff who are experienced in anesthesia techniques.
Related Wisdom Teeth Articles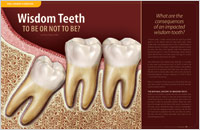 Wisdom Teeth – To Be Or Not To Be
Facts you need to know about these curiously named teeth. They are so-called because a moderate amount of wisdom is supposedly achieved at about the same time these teeth typically make their appearance. This article will review the problems associated with wisdom teeth and whether or not they should be removed… Read Article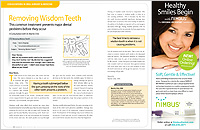 Removing Wisdom Teeth
Removing wisdom teeth is a common treatment prevents major dental problems before they occur… Read Article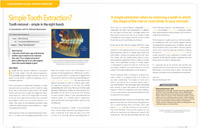 A Simple Tooth Extraction?
From a procedural or professional standpoint, a simple extraction refers to removing a tooth in which the shape of the root or roots lends to easy removal… Read Article
Comiskey Oral Surgery
5
out of
5
stars based on
65
Wisdom Teeth reviews.
---
Our Latest Patient Testimonial
Caring team and quick procedure with no issues. Would definitely recommend to anyone needing to have wisdom teeth extracted.
- Brandie M
Our Latest Patient Testimonial
Dr. Comiskey spent a good amount of time with us and never made us feel rushed or that we were not worth his time. He listened closely to my son's concerns and asked him many questions so he could be thorough in his exam. He saw us back for two follow ups just to make sure all is progressing well. Thank you!
- Blake A
Our Latest Patient Testimonial
Dr. Comiskey and his staff are awesome. I am terrified of the dentist/dental work and I was an absolute mess when I arrived. Everyone was very supportive and patient with me. Things went very well and I was in and out in know time! Can't thank them enough!
- LaQuenta M
Our Latest Patient Testimonial
The wisdom teeth process was very quick and easier than I expected! Everyone involved was very kind and helpful. I had a great experience!
- Kristen M
Our Latest Patient Testimonial
Exceptional Service
- Madeline T
Our Latest Patient Testimonial
I will go back for implants.
- Rebecca W
Our Latest Patient Testimonial
Overall I had a great experience here the staff and doctor were really friendly and professional. I will come back again if I need any more additional care.
- Karina A
Our Latest Patient Testimonial
Fantastic experience at Dr. Comiskey's office. I tend to be a dental work chicken. Going to have wisdom teeth removed was not something I looked forward to. The staff was all very welcoming and concerned about my needs and comfort. Dr. Comiskey made me feel very at ease and he worked very confidently. The procedure was easier than I expected and the service provided was top notch. I've told so many people about this office already and will continue to do so. Awesome!!!
- Wendy B
Our Latest Patient Testimonial
Definitely recommend
- Ryan I
Our Latest Patient Testimonial
The whole experience was a breeze! Things moved fast (which took a few seconds to process) but was handled well and I've already recommended you to friends.
- Alexandria F
Our Latest Patient Testimonial
Easy experience for a nerve racking procedure. The staff was kind patient and caring and I would recommend to anyone.
- Jazmin R
Our Latest Patient Testimonial
Dr. Comiskey and staff are genuinely caring and highly recommended by me! I feel completely at ease there and know that I am in the best of hands. This was my second visit to his office - during this visit Dr. Comiskey extracted my Wisdom tooth and another tooth that he discovered had issues. I was very comfortable throughout the procedure and felt no discomfort at all. I totally trust him and will continue as his patient whenever I have the need to visit an Oral Surgeon.
- Ruthe G
Our Latest Patient Testimonial
Our Latest Patient Testimonial
Would definitely reccomend...staff was great...Dr. was fantastic...easy recovery....wonderful work done by all!!!!
- Deana C
Our Latest Patient Testimonial
Dr Comiskey and his whole staff are amazing from the initial consult to the final appointment! Thank you all so much for talking great care of both of my children! I highly recommend this office! ⭐️⭐️⭐️⭐️⭐️
- Jamie H
Our Latest Patient Testimonial
Dr. Comiskey and the entire staff were friendly and professional. I would definitely recommend!
- Trevor M
Our Latest Patient Testimonial
Dr. Comiskey was professional while relieving my son's reservations on having his wisdom teeth removed. We opted for anesthesia which made the procedure simpler for my son. I would recommend Dr. Comiskey's office to a friend or family member.
- Penny D
Our Latest Patient Testimonial
Dr. Comiskey and his staff did a outstanding job with my Wisdom Teeth extraction. They answered all of my questions and made me feel totally at ease. The procedure was way easier than I anticipated. Recovery has been very quick and painless, I would definitely recommend them to anyone!
- JACOB F
Our Latest Patient Testimonial
Everyone was friendly, the wisdom tooth removal went smooth and fast!
- Hannah H
Our Latest Patient Testimonial
Our experience with Dr. Comiskey and his staff was top notch. The staff is courteous and professional. Dr. Comiskey and his assistants were all kind, helpful, and attentive to my son's needs before, during, and after the procedure. I highly recommend this group for your dentistry needs.
- Rebeccah S